Color
Silver

Material
Stainless steel


Ring diameter

Size 1: Small 1.48 inch / 38mm

Size 2: Medium 1.61 inch / 41mm

Size 3: Large 1.99 inch / 51mm

Size 4: Extra Large 2.24 inch / 57mm

Size 5: Super Large 2.44 inch / 62mm

Cage size

Diameter: 32 mm (1.25 in.) 

Length: 60 mm (2.36 in.) 
Lock your penis in a metal cage?  This model is perfect for being a master's dream slave!  
Staying chastity is a big decision to start a new life.  It requires going through different stages like humiliation, extreme submission, but this is the world of BDSM, and being a slave is so exciting that you'll get a taste of it soon enough.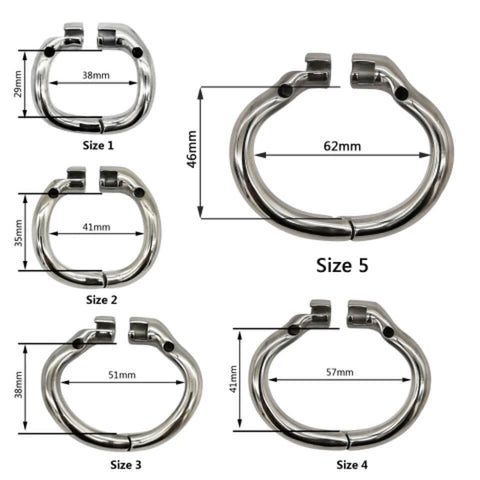 This small metal chastity cage is perfect for severe punishment, as well as for relatively small penises.  It will make you a pure person, the master will be there to guide you, the cage will correct you! Don't miss it!