Color/Type

Flat Cock cage

Material

Stainless steel

Ring Dimension

Diameter

4cm (1.57in);

4.5cm (1.77 in);

5cm (1.97 in)

Cock Cage Dimension

Diameter: 3.3cm (1.3in) or 3.5cm (1.97in)

Length: 1.6cm (0.63in)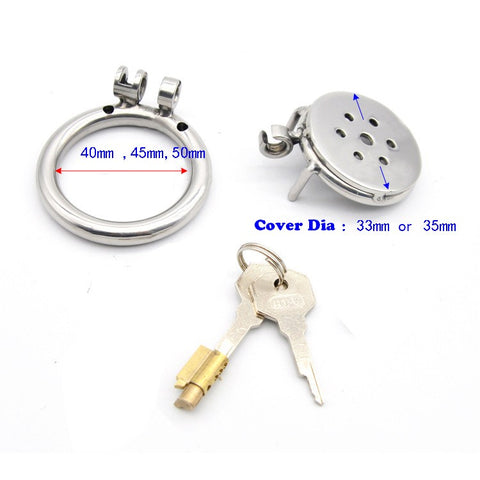 Super mini flate chastity cage Stainless Steel Male Chastity Device 2 Size Penis Cage for you!  This safe wise design is so discreet that no one can tell what you're hiding under your pants.  It's flat, so a baggy coop will never be an issue. The device has holes in the front that allow you to urinate without taking it off.  
This flat metal cage is made of high quality stainless steel, rust-proof and durable.  Whether you're rejecting sex, preventing erections, slave training or dealing with sex addiction, our collection of metal male chastity devices is sure to do the job for you and your mistress.  Don't miss out!